MAds™ The Solution of the Future
On the move we are now able to do more than ever: we take pictures, we surf the Internet, we play games, we get the news, we get directions, we listen to music and we watch videos. All this capability now comes from a single device in our pockets.
Now the time for rich, highly targeted advertising on mobile phones has finally arrived.
What is MAds™?
MAds™ is a revolutionary new advertising stream, the world's first platform that can effectively deliver rich, personal and engaging content to mobile phones in the most optimised format.
Developed and patented by Key2Cell, MAds™ promises to unlock the potential of mobile advertising while offering numerous breakthrough benefits to everyone from the every day mobile phone user to the luxury brand marketer.
Sending video- and audio-rich advertisements to mobile phones had not been possible because of the wide variation in display sizes and features among different mobile handsets. We have overcome this obstacle through our groundbreaking technology that can determine the right format to send to up to 97 per cent of the time.
MAds™ in Action
WOM Creator Database Building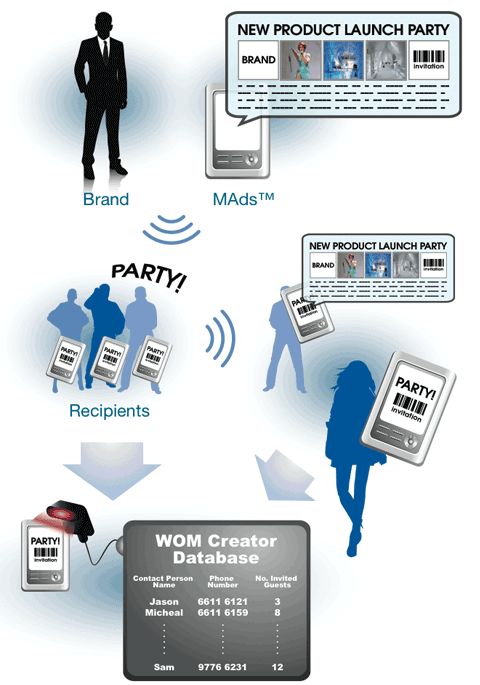 Situation
A brand organizes a new product launch party.
Solution
They use MAds™ to send out an invitation message together with a customized barcode to their target audience. Recipients can invite their friends to join by forwarding this invitation message, and each guest will need to register their barcode on that day in order to attend the event.
Benefits
The brand can measure the forwarding rate of the MAds™ campaign and identify the "influencers" who are the word-of-mouth creators. Thereafter, the brand can target these influencers at the first priority to maximize the effect.
Private Sales Promotion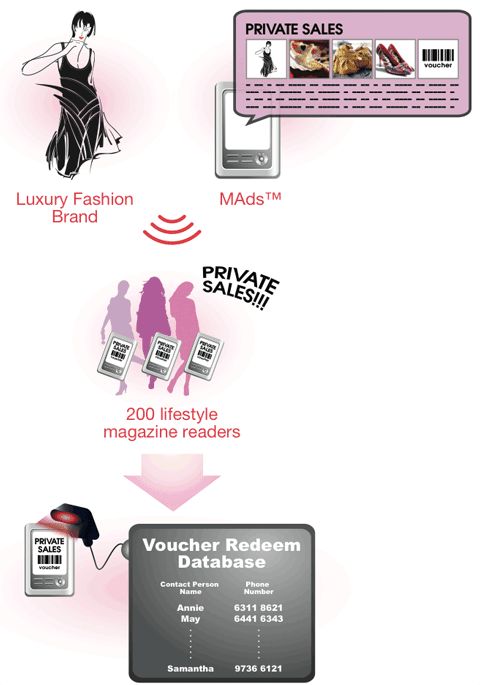 Situation
A luxury fashion brand needs to clear the stocks before promoting new arrivals. In order to achieve this result but the marketer has to be careful not to do anything that might degrade the brand image, the brand plans to organize a private sale event.
Solution
The brand uses MAds™ to send out vouchers with unique barcodes to the specific audience of a lifestyle magazine's readership database.
Benefits
Audiences receive something valuable and exclusive. The brand can build up their database once the audience redeems the voucher.

Who We Are
We are the creator and provider of MAds™, a brand new advertising solution for the delivery of rich, personal, engaging and individually formatted content to mobile phones. Our groundbreaking patented Dynamic Mobile Profiling technology determines the best possible format in which to deliver highly individualized marketing messages in the most effective way to any mobile device.
Key2Cell was founded in 2009 in Hong Kong and is currently rolling out the largest mobile advertising network in the world, starting with Hong Kong, and then extending to Macau, Beijing, Shanghai and Chengdu.
Key2Cell
DB North Office Block 2, LG/F Unit 2
96 Siena Avenue Discovery Bay
Hong Kong, 中環中心
+852 8202 2210